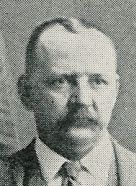 Edward Small was born in New York, September 7, 1835. His father was a native of Europe, born in 1808, and in 1834, came to America. A few years later he located in Hamilton County, Ohio, where he died in 1861. Soon after that time Edward came to Shelby County, where he has lived ever since. As a member of Company G, Thirty-seventh Regiment, Indiana Infantry, he served in the Civil War for a period of twenty months. At the Battle of Stone River, he was taken sick, and after that spent considerable time in the hospitals until he was discharged for physical disability. For more than twenty years he has been engaged in the confectionery and news business, with a success that is almost without precedent. His wife was Mary Morrison, a native of this county. They are the parents of seven children, the eldest of whom is Wilber M. Small.
History of Shelby County, Indiana, "Shelbyville Sketches," Chicago: Brant & Fuller, 1888, page 535.
Contributed by Phyllis Miller Fleming
Photo from Boetcker's Picturesque Shelbyville, 1909.