Shelby County, Indiana
Land Records

Township 13 North of Range 7 East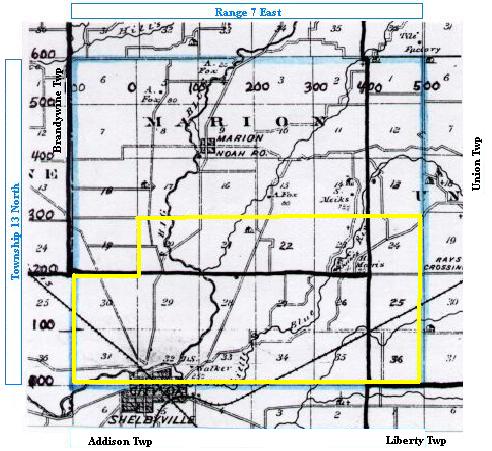 Map copied from
Illustrated Historical Atlas of the State of Indiana
, Baskin, Forster & Co, Chicago, 1876
The black lines mark the present day townships Marion, Union (secs 1, 12, 13, 24, 25, 36) and Addison (secs 26-35. The bottom blue line represents Range Road (00); the top would be 600N. The left blue line represents County Road 100W; the right would be 500E. Marion and Union Twps are to the top/north; Union Twp is to the east; Liberty and Addison Twps are below/south; Addison and Brandywine Twps are to the west.
Original purchases from the United States Government
6 Baker Alexander
Hubble
Wright Kaster
Rhodes
5 Whited
Fox
Kaster
Whited Davis
4 Laycock
Fox
Greer Sleeth
Sleeth
3 Sleeth Fox
McCombs Camblin
Fox Bollibaugh
Sleeth Fox
2 Sleeth Parker
Allen Alexander
Sleeth Copple Burch
Fouts
1 Snow Fouts
Greenberry Stoddard
Talbert
Burtch Copple Creek
7 Bedinger Stuck
VanVoast Foster
Glancy VanVost
Vernon VanVoast
8 Vernon McCormick
Welliver
Cummins VanVoast
Hodges Kinsley Vernon
9 Williams Fisher
Foutz
Wilson Fisher
Higgins
10 Fox Roads
Rhoads
Foreman
Rhodes Roads
11 Smith Copple
Rhoades
Cook Rhodes
Foreman Bates
12 Cotton Smith
Golding Brown
Vail Phares Smith
Brown Cotton
18 Shiples Glancy
VanVoast Bassett
VanVoast Conwell
Rice Major Tustin
17 Brown Wallace
Green
Bassett
Crane Heath
16
School Commission Lands
15 Hodges Benefiel
Gatewood Davis
Smith Rhodes
Colglazier Copple

14 Smith Cox
Cornelius
Caulkenbaugh Hauk
Donnell
13 Hawk Scott
Golding Brown
Donnell Klum
Rice Rice
19 Curry Jones
Hawkins Robinson
McCoy Pell Hall
Kinsley Henry Steel
20 Wilson Hinds
Crane Calvert
Walker
Montgomery Smith
21 Walker Walker
Walker Gordon Sleeth
Smith Hinds
Robins Postell
22 Walder Coates
Ungeron Strasinger Lortz
Dovennbit Postell
Higbee Yarling
23 Cornelius
Gatewood
VanScoyoc
Gatewood Morris
24 Cotton Bates
Gunning Gatewood
Glenn
Brooks
30 Kinsley Church
Applegate Campbell
Mayhew Gearhart
Lefever Henry Walker
29 Hinds Bass
Walker
Walker Kinsley
Walker
28 Walker Lyon
Walker Cornelius
Porter
Knepper
27 Cornelius Nave
Burkhart Williams Kent
Sherry Heifner Nave
Gatewood Robertson
26 Morris Cornelius
Bivans
Williams Gatewood
Rice
25 Glen Vail
Gordon Barnes
Robison Bush
Wheeler
31 Campbell Walker
Davidson Sherer
Sherer

32 Walker Kinsley
Barricklow Love
Wilson Powell
Goodrich Walker
33 Carnell Powell
Walker Wilson Porter
Crane Barricklow Higbee
Young
34 Walker Powell
Vanbuskirk Higby Coats
Campbell
Donnell
35 Coats Higby
Robertson Robertson
Wheeler Allen
Donnell
36 Fouts Snow
Greenberry Stoddard
Wheeler Talbert
Copple Burtch Talbert
The above table is for a general overview of the neighborhood. For an exact description of the location and amount of land owned by each individual, please click on the individual section number (1-36) in the above table.