Shelby County, Indiana
Land Records

Township 13 North of Range 8 East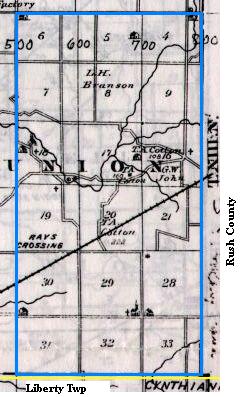 Map copied from
Illustrated Historical Atlas of the State of Indiana
, Baskin, Forster & Co, Chicago, 1876
The western half of this Congressional township falls entirely within present-day Union Twp. The bottom blue line represents Range Road (00); the top would be 600N. The left blue line represents County Road 500E; the right would be 800E/County Line Rd. Three more sections of Union Twp are to the top/north; Rush Co lies to the east; Liberty Twp is below/south; Union Twp continues to the west.
Original purchases from the United States Government
6 Fair Bright
Sharp Tillotson
Barriger Linville
Asher Sharp Craul
5 Macy Swain
Coffin Coffin
Macy Worth
Worth
4 Coffin Stanton
Stanton
Coffin
Coffin Phares
3
Rush County
2
1
7 Wicker ?
Golding Kynes
Phares Brown
Brown Fair
8 Craul Hays
Halstead Kamper
Young Brown
Golding
9 Hays Coffin
Hensley Talbot
Cotton Lee Brown
Brooks Golding
10
Rush County
11
12
18 Brown Brown
Golding Phares
Rice Phares
Brown Rice
17 Brooks Vale
Cotton Atherton
Dewitt Dewitt
Cotton
16
School Commission Lands
15
Rush County
14
13
19 Brown Bennett
Derrickson Derrickson
Derrickson Rauzell
Baker
20 Rice Brown
Rice Ray
Mincks
Jahrling
21 Peters Headlee
Wicker Morris
Fry
Minks Headlee Carney
22
Rush County
23
24
30 Bennett Brooks
Zeiss/Zeas
Wheeler Foster
Carney Carney
29 Keppel
Kepple
Keppel
Keppel
28 Haehl
Haehl
Haehl
Haehl Brown
27
Rush County
26
25
31 Haehl Fox
Park
Anderson Baker
Friday
32 Corwine Baker
Haehl
Carwein
Fox
33 Vance Baker
Osborn Osborn
Baker Baker
Forsythe Whisman
34
Rush County
35
36
The above table is for a general overview of the neighborhood.
For an exact description of the location and amount of land owned by each individual,
please click on the individual section number (1-36) in the above table.