Shelby County, Indiana
Land Records

Township 14 North of Range 8 East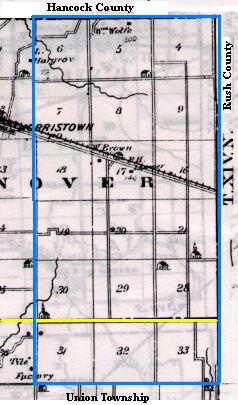 Map copied from
Illustrated Historical Atlas of the State of Indiana
, Baskin, Forster & Co, Chicago, 1876
The yellow lines mark the present day townships - Hanover (north) and Union (south). U.S. Highway 52 runs northwest from Rushville to Indianapolis. The bottom blue line represents County Road 600 North; the top would be 1200N. The left blue line represents County Road 500E; the right is 800E.
Original purchases from the United States Government
6 Smith Tyner
Smith
Nash
Rees
5 Tyner Handy
Wolf Handy
Keaton
Katen Wilson
4 Silvester Parkes
Boatright Nicholson
Owings/Owens Kennedy
Lee Snider Scott
3 Rush Co
2
1
7 Keaton Keaten
Keaten
Francis Tolle
Francis Rees
8 Keaton Ennis
Cunningham Messersmith
Moffitt
Wilson Messersmith
9 Lee Baity
Stephens
Moore Stapleton
Stephens Keaton
10 Rush Co
11
12
18 Francis Johnson
Spurrier
Tolle Williams
Gordon
17 Stone Fielding
Johnson Hunter Buck
McConnell McConnell
Moffitt
16 School Commission Lands
15 Rush Co
14
13
19 Pollitt Buck
Hurst
Montgomery Darmer
Williams
20 Buck Green
Kensler Ludlow
Saxon Davis
Philpott
21 Macy Barnard
McConnell
McConnell
Stephens
22 Rush Co
23
24
30 Bennett Carmony
Carmony Montgomery
Montgomery Ennis
Thornberry Young
29 Saxon Stephens
Stephens Talbert
Youngs Cook Smith
Stephens Montgomery

28 Stephens Fields
Phares Hiatt Swain
Poulding Stephens
Leonard Griffin
27 Rush Co
26
25
31 Rhoades Booher
Talbert Thornberry
Booher
Rauzell Barnard
32 Jones Coffin
Jones Swain Cook
Smith Stubbs Young
Stubbs Barnard
33 Zike Coffin
Stanton Swain
Swain
Coffin Davis Davis
34 Rush Co
35
36
The above table is a general overview of the neighborhood. If the section number is underlined in the table, you can click on the number for an exact description of the location, amount of land purchased and the residence of the individual at the time of purchase. All other records are available at the Recorder's Office.