Knarr Family Album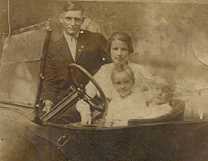 The gentleman is my grandfather,
Leslie Riley Knarr
, (1889, Greensburg - 1968, Shelbyville).
His wife is
Elva Lorrene Hobbs Knarr
, my grandmother, (1894, Shelbyville - 1969, Shelbyville).
The children are
Evelyn Marie Knarr Schacht-Rendant
and (my father)

Earl Raymond Knarr
. Earl (1918-1995) was about 3 years old when this picture was taken.
Contributed by
Bill Knarr

More Knarr Pictures

Picture Index

Main Page