Harrell Family Album
Shelby County Indiana
Page 1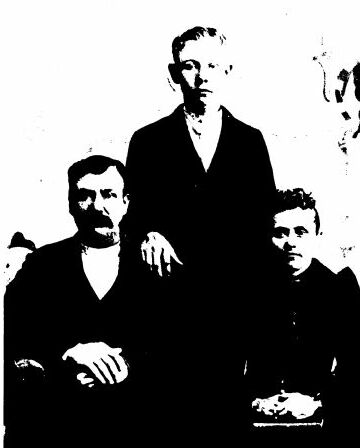 | | | |
| --- | --- | --- |
| James Henry Harrell | Eddie Ellis Harrell | Armilda Jane Parrish |

James was born 25 Jul 1848, married 6 Sep 1874 and died 22 Nov 1909. He was the son of James Ellison Harrell and Eady McCarty.
Eddie was born 10 Jul 1875, married Ida Olive Thurston 26 May 1897, and died 23 Apr 1942. He was the son of James Henry and Armilda Jane.
Armilda was born 27 Dec 1852 and died 23 Dec 1924. She was the daughter of William G Parrish and Hannah Collins.



Introduction


The oldest photographs in this collection were carried from Shelby County, Indiana, to Oklahoma County, Oklahoma, by Mr. and Mrs. James Henry Harrell in their move about 1903. Mrs. Harrell was the former Armilda Jane Parrish, daughter of William G. Parrish and Hannah Collins of Shelby County. James Henry Harrell was the son of James Ellison Harrell and the former Eady McCarty of Shelby County.
James and Armilda moved to Oklahoma along with their only child, Eddie Ellis Harrell, and his wife, the former Ida Olive "Ollie" Thurston, daughter of Harvey Nelson Thurston and Martha Snider. These two families settled on 160 acres of farmland near Jones, Oklahoma. This farm is still owned by members of the Harrell family. James Henry died in 1909 after returning to Shelby County because of his impending death. His son-in-law, John Butler, was Sheriff of Shelby County at the time and came to Oklahoma to carry him home. James Henry arrived back in Indiana about 24 hours before his death. Armilda died 23 Dec 1924, and her body was returned by train for burial at "home" in Shelby County. The two of them never got over being homesick for Shelby County.