Shelby County Indiana
Land Records

Township 14 North of Range 5 East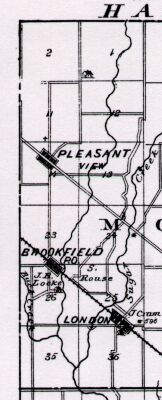 Map copied from
Illustrated Historical Atlas of the State of Indiana
, Baskin, Forster & Co, Chicago, 1876
This is the far northwestern corner of Shelby Co. The entire area lies in Moral Twp. Hancock Co is on the northern border. Marion Co and Johnson Co are on the western border. Directly south is Sugar Creek Twp. Michigan Road runs northwest through Pleasant View.
Original purchases from the United States Government
6
5
4
3
Marion Co
2 Williams Rouse
Plummer Catterson
Wilkins Parrish Fee
Joyce Dennis Adams
1 Means Rawlings
Senior Means Wilkins
Murnan
Ware
7
8
9
10
Marion Co
11 Mann Hume
Fee Pitcher Fee
Means Fee
Mann
12 Joyce
Fee Ware Amos
Murnan Joyce
Plummer Pollard
18
17
16
15
Marion Co
14 Keeler House
Means Means
Pleasant View Means
Means Right
13 Means Portlock
Wilson Breedlove
Stanley Wright
Fee Gossett Means
19
20
21
22
Marion Co
23 Meanes Means
Means
Means
Meanes Hibler
24 Portlock Lines
Fray
Means Doble Cobb
House Wright
30
29
28
27
Johnson Co
26 Poer Joyce
Means Dearmin
Kibler Kallam
Yoke Means
25 Killgore Fansler
Farnsler Jackson
Dake
House London
31
32
33
34
Johnson Co
35 Yoke Huffer
Farnsler Bowman
Surber Means Yoke
Huffer Dearmin
36 Farnsler Wright
Hause House
Fansler Nichols
Nichols Peddicord
The above table is for a general overview of the neighborhood. For an exact description of the location and amount of land owned by each individual, please click on the individual section number (if highlighted) in the above table.